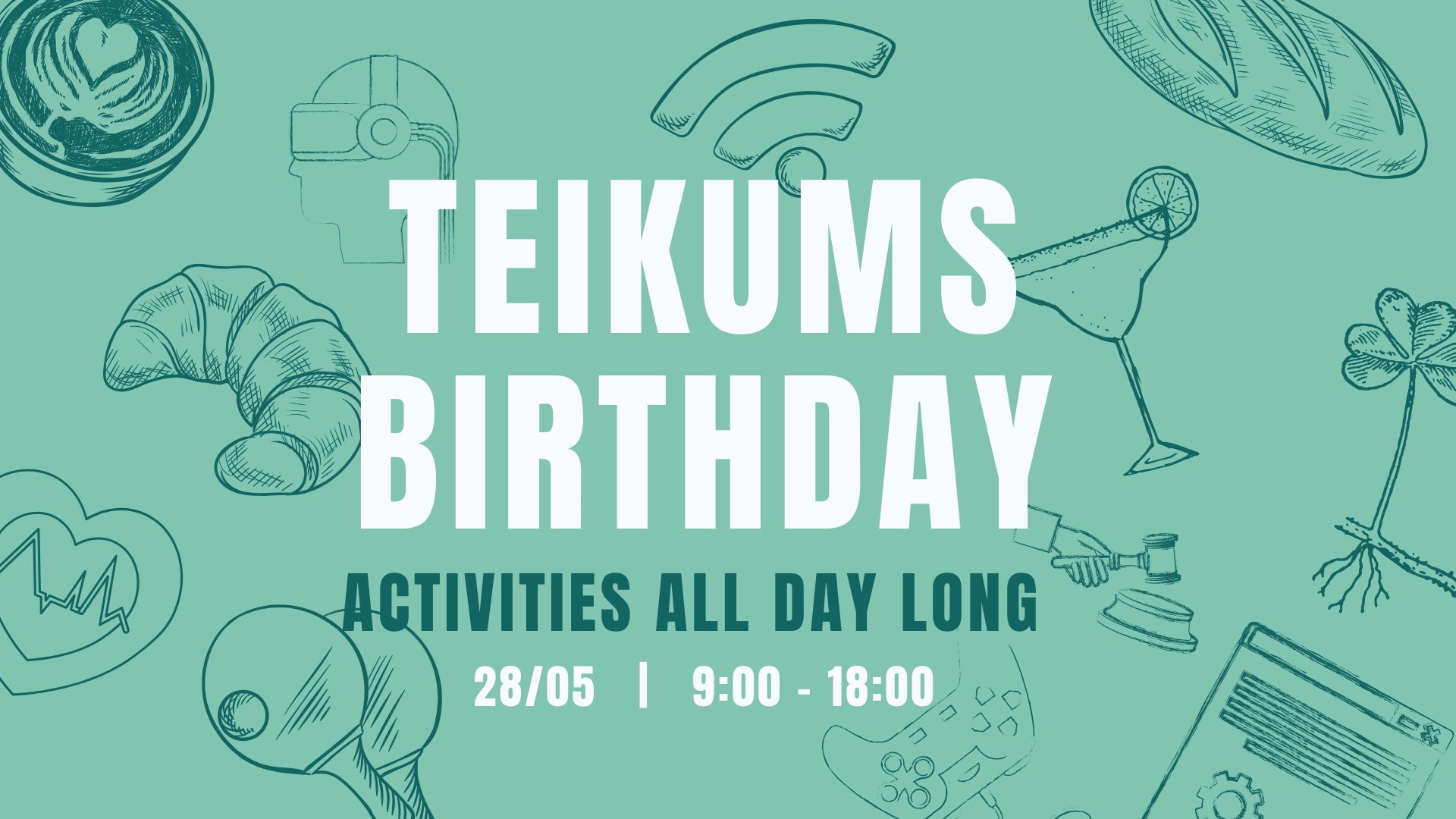 Čau, Teikumieši!
Esam aizvadījuši vēl vienu gadu kopā, un pienācis laiks to atzīmēt! Trakoti gribam Tevi redzēt un aizsūtīt gaisa bučas Teikuma dzimšanas dienas svinībās, kurām ar vairāku Teikumiešu palīdzību esam sagatavojuši aktivitāšu pilnu dienu!
Ievērojot Covid-19 ierobežojamus, katra aktivitātē būs pieejama ne vairāk kā 25 cilvēkiem vienlaicīgi, tādēļ aktivitāšu ir daudz, lai ballītes garšu izdodas noķert visiem!
P.S. Aktivitātes šajās dienās būs pieejamas visiem Teikumiešiem abos Teikumos! Pasākums paredzēts tikai Teikums biedriem!
MAY 27 | 11:10 - 11:40 | @Teikums Teodors kitchen
BREAD MAKING WORKSHOP WITH INA GUDELE
Ina is famous at Teikums with her bread baking skills, so day before Teikums Birthday, she will share her skills with you and make a special Teikums Birthday bread that we will enjoy at the Birthday breakfast snacking.
MAY 28 | 9:00 - 10:00 | Jaunā Teika
SPECIAL MORNING COFFEE
Our friends from Rocket Bean Roastery who provide you daily
with survival juice (coffee) on Teikums Birthday morning will wake you up with a crazy good coffee made at their coffee house on the wheels - Omnibus. Each of you will receive a coupon that you will be able to exchange for a cup of coffee.
MAY 28 | 9:30 - 10:30 | @Teikums Teodors & Teikums Ausma kitchen
BREAKFAST SNACKING
You can only do a proper Birthday celebration with a full tummy
so let's have a little breakfast snacking while sipping that survival juice (coffee). We and some of the Teikumers have prepared some snacks for you.
MAY 28 | 11:00 - 17:00 | @Teikums Ausma event space
PING PONG TOURNAMENT
Miss SQUAD Hour? Our friend Kristaps Strods, SQUAD Hour trainer, invites you to challenge yourself and have a little workout at the Ping Pong Tournament. Will you accept the challenge?
MAY 28 | 11:00 - 17:00 | @Teikums Ausma event space & Teikums Teodors kitchen
GAMING TOURNAMENT
Fēlikss & Jūlijs is inviting you to the gaming tournament with Playstation & Xbox consoles. They guarantee you to have a time fun spent.
MAY 28 | 11:50 - 12:20 | @Teikums Ausma kitchen
VIRTUAL REALITY TEST (workshop)
Teikumers
Janis Kondrats
& Sandis Kondrats (Exonicus) have created VR simulation that allows soldiers to learn and practice first aid. In this workshop they will answer your questions regarding VR & will let you test their VR simulation.
MAY 28 | 12:30 - 13:00 | @Teikums Teodors kitchen
HOW TO FIX BROKEN INTERNET (workshop)
Our internet fixing guru also known as Teikumer Kristaps Silbaums (1nce) in this workshop will share his knowledge on how to fix broken internet when restarting router and computer isn't enough
MAY 28 | 13:10 - 13:40 | @Teikums Ausma kitchen
FUTURE IS HERE - WAY TO GROW PERFECT PLANTS (workshop)
In this workshop Teikumers Rinalds Trukss & Anna Leišavniece (Broccoli) will introduce you to the future - a way to grow perfect plants by only providing them with the perfect amounts of nutrients.
MAY 28 | 13:50 - 14:20 | @Teikums Teodors kitchen
HOW & WHY TO STORE DATA ON CLOUD (workshop)
Teikumer Mārtiņš Jurjāns will share his knowledge about storing data on the cloud - what are the functional possibilities for teams; safety - what's worth paying attention to when you choose a cloud service provider; some examples how Mārtiņš & his team is using the cloud for working
MAY 28 | 14:30 - 15:00 | @Teikums Ausma kitchen
WEAR YOUR HEART ON YOUR SLEEVE (workshop)
In this workshop Teikumers
Normunds Daudiss
& Zane Derdonska will give you a chance to measure your rate with a special device & analyze your heart rate data - how old is your heart, what's your heart telling about your emotional and physical health, etc.
MAY 28 | 15:10 - 15:40 | @Teikums Ausma kitchen
1ST STEPS IN PROGRAMMING (workshop)
During this workshop, you will have a chance to learn programming basics with Linda Sinka, founder & teacher at LearnIT,
a company that teaches programming to children in a fun & engaging way.
MAY 28 | 17:00 - 18:30 | @Teikums Teodors kitchen
SPRITZ / NEGRONI & CHARITY FLEA AUCTION
After a long day of activities, we invite you for a cocktail made by Bruno & a charity flea auction where we will sell stuff from Joom
that have no owners - phones, clothes, etc. All money will be donated to
Ziedot.lv
project Stiprini Stipros
(support for families with severely ill children)!
MAY 30 | 10:00 - 15:00

Teikuma Dzimšansdienas pārgājiens Līgatnē